Astronomy inspires awe and reminds us all of the tiny piece of the cosmos that we inhabit.  Awareness of our place in the universe, this pale blue dot, diminishes the magnitude of our conflicts and encourages us to be good to one another.  I feel fortunate to be an ambassador on this mission, and eager to share my love of astronomy with the public.
I am passionate about improving equitability in the sciences and am dedicated to developing programs that make science more inclusive and equitable for the next generation of scientists.  I have been led and been involved in a number of outreach programs. I would like to hear your ideas of programs to implement at UConn!
Major Outreach Programs
UConn's new BRIDGE+ program is a new summer bridge program for incoming UConn STEM graduate students from traditionally underrepresented backgrounds. Funded through the President's Commitment to Community Initiative (2021 – present).

BiteScis brings together science graduate students with K-12 teachers to develop lesson plans that bring modern science research into the K-12 classroom. These lesson plans are based on cutting-edge science research while filling real classroom needs by aligning with curriculum standards. Each lesson plan highlights real scientists in the field to help diversify students ideas of who can be a scientist. All BiteScis lesson plans are fully editable and freely available online. I co-founded BiteScis along with science education colleagues I connected with at ComSciCon. I co-led the program from 2014-2020.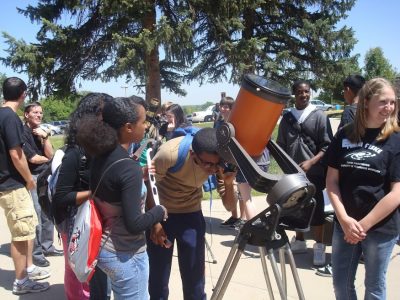 CU-STARs is targeted to address the main triggers of early career attrition for students from underrepresented backgrounds in STEM disciplines. By providing financial support (through work-study at the campus Planetarium), social engagement, mentorship, free tutoring, and an active support network, we aim to build an inclusive community to support the STARs in their STEM major.
The culmination of the program for the recruits are a series of high school outreach events in underserved areas, in which they become the expert. The STARs are paid for their time and take the lead in planning, teaching, and facilitating programs for high school students, including classroom presentations, interactive lab activities, solar observing, and star parties. 
As a graduate student at the University of Colorado at Boulder, I co-founded and led the CU-STARs program. The program is in its 9th year and is estimated to have impacted about 45 undergraduate and 100s of high school students (Leader: 2010-2013)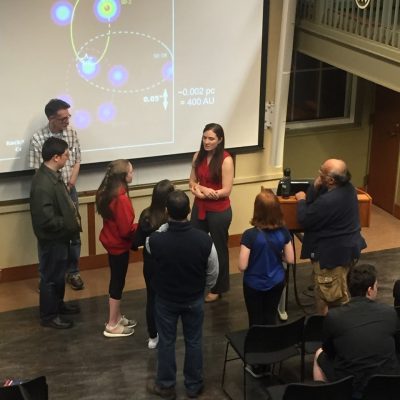 Additional Highlighted Outreach Activities:
13 invited public talks
Faculty advisor for the UConn Astronomy Association (2018 – present)
Faculty advisor for the UConn Physics Club (Fall 2018 – present)
Led Astronomy Activity at Hartford Schools Physics Open House. (April 2018)
Co-organized solar eclipse viewing party. (August 2017)
Science Advisor for the Play "TheWomen who Mapped the Stars" by Joyce Van Dyke, premiering at the Central Square Theater. (07/01/2016 – 09/01/2017)
ComSciCon workshop organizer (2015-2017)
WorldWide Telescope Ambassador (2014-2016)
Leader of the Colorado Women in Astronomy Group: Organized the first-ever women in astronomy retreat and department public forum, in addition to leading monthly meetings and hosting guest speakers. (2010-2012)
Sommers-Bausch Observatory

Open Houses and Astronomy Day Volunteer (CU-Boulder, 2008-2013) 

Cool Girls Science & Art Club

Presenter (2012) 

Boulder Safehouse

 

Children's Volunteer (2009-2013)

Science Fair Judge (2009, 2011)

Boston Museum of Science

Discovery Center Interpreter (2007) 

Horizons for Homeless Children

 

Playspace Activity Leader (2005-2008).